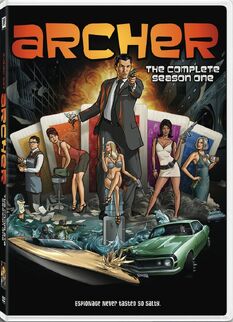 Archer: Season 1
was released on DVD in a two-disc set. A Blu-ray release is available at Best Buy stores and has been announced for general release.
Product Details
Edit
Aspect Ratio: 1.77:1
Number of discs: 2
Rated: NR (Not Rated)
Run Time: 308 minutes
Studio: 20th Century Fox
ASIN: B00475B0G2
Special Features
Edit
Unaired Network Promo
The Making Of Archer: 3D
The Making Of Archer: Animation
The Making Of Archer: Art Direction
The Making Of Archer: Backgrounds
The Making Of Archer: Illustration
The Making Of Archer: Storyboards
Deleted Scenes
Louie Pilot Episode
Release Dates
Edit
Region 1 = December 28, 2010
Region 2 = Mach 2, 2011
Region 4 = March 2, 2011
Ad blocker interference detected!
Wikia is a free-to-use site that makes money from advertising. We have a modified experience for viewers using ad blockers

Wikia is not accessible if you've made further modifications. Remove the custom ad blocker rule(s) and the page will load as expected.