Archer :
The Complete Season One



DVD Front Cover

DVD Product Details
Season
Season 1
Tagline
"Espionage Never Tasted So Salty"
No. of Discs
2
No. of Episodes
10
Length
308 minutes
Language
English
Subtitles
English, French, Spanish
Release Information
DVD ( Region 1 )
December 28, 2010
DVD ( Region 2 )
March 2, 2011
DVD ( Region 4 )
March 2, 2011
Blu-ray ( Region A )
December 27, 2011
DVD Chronology
Archer: The Complete Season One was released on DVD in a two-disc set. A Blu-ray, originally only release in limited quantities via Best Buy stores it has now been made available for general release in wherever DVD's & Blu-rays are sold.
Product Details
Edit
DVD :

Number of Discs: 2
Run Time: 308 minutes
Aspect Ratio: 1.78:1
Audio: Dolby Digital 5.1
Rated : NR (Not Rated)
Studio: 20th Century Fox
ASIN: B00475B0G2

Blu-ray :

Number of Discs: 1
Run Time: 211 minutes
Aspect Ratio: 1.78:1
Audio: 5.1 DTS-HD Master Audio
Rated : NR (Not Rated)
Studio: 20th Century Fox
ASIN: B005LZW6GU
Cover Description
Edit
Suave secret agent Sterling Archer is the world's most dangerous spy, but political intrigue and global crises are nothing compared to the sexual tension and human resources crises at the intelligence agency where he works. Archer must deal with his over-bearing, over-sexed mother - who is also his boss-and his femme fatale ex-girlfriend who seems to be sleeping with everyone except him. Embezzlement, mind control, hangovers, and demented double crossings - they're all in a day's work in this outrageously raunchy comedy!
Bonus Features
Edit
Season Tagline : " Espionage never tasted so salty "
External Links
Edit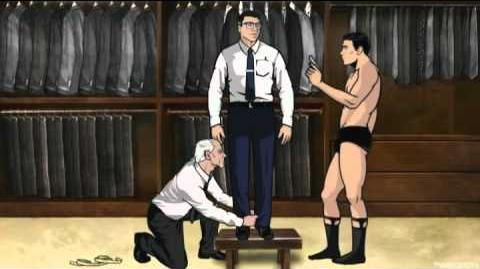 References
Edit
Ad blocker interference detected!
Wikia is a free-to-use site that makes money from advertising. We have a modified experience for viewers using ad blockers

Wikia is not accessible if you've made further modifications. Remove the custom ad blocker rule(s) and the page will load as expected.