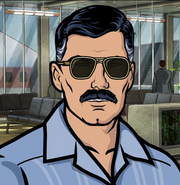 Aviator Sunglasses can be seen throughout the show in various episodes and seasons; they seem to be most favored by show protagonist Archer.
Archer can be seen in aviators in several scenes.
Technical Information
Edit
They are Military Issued HGU4/P, MIL-S-25948H manufactured by Randolph Engineering. They have been the supplier for the US Military since 1982. Prior to that, American Optical was the supplier.
Cosmetic Usage
Edit
They work very well with a turtleneck, obviously, but it seems that Night Vision Goggles are more called for in tactical turtleneck, or tactilneck situations. The gray lenses in his aviators are perfect for blocking out menacing morning rays while having breakfast on the terrace. 
In the episode Diversity Hire, Archer went undercover as Raul Gomez . In addition to the fake moustache used in other missions, he opted for the 23K gold plated frames with tan lens combination. 
There are several combinations of frame and lens colors available, but Archer chooses the versatile and classic bright chrome frames with gray lenses. These glasses are worn by real Top Gun pilots but in a sponsorship arrangement Tom Cruise when flying to the Danger Zone in the movie Top Gun wore another brand.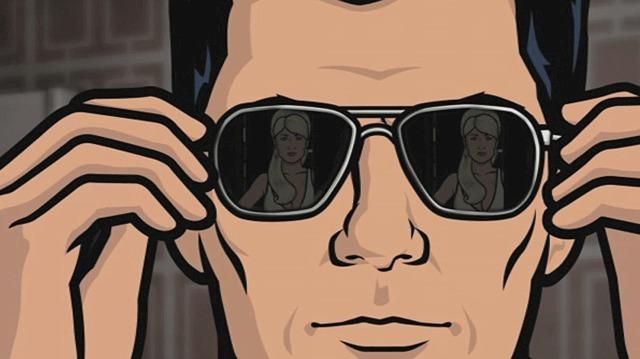 Ad blocker interference detected!
Wikia is a free-to-use site that makes money from advertising. We have a modified experience for viewers using ad blockers

Wikia is not accessible if you've made further modifications. Remove the custom ad blocker rule(s) and the page will load as expected.