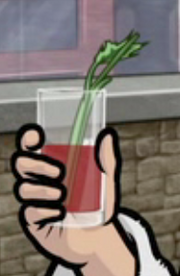 The
Bloody Mary
is a frequent breakfast drink for
Malory Archer
and
Sterling Archer
. This cocktail contains
vodka
, tomato juice, and ingredients such as Worcestershire, Tabasco, beef bouillon, horseradish, celery, olive, salt, black pepper, cayenne pepper, lemon juice and/or celery salt. It has been called "the world's most complex cocktail." Malory and Sterling frequently have theirs with a celery stick inside.
In How to Archer: The Ultimate Guide to Espionage and Style and Women and Also Cocktails Ever Written, Archer gives a recipe for his Bloody Mary:
3oz vodka
6oz freshly squeezed tomato juice
1oz freshly squeezed lime juice
1/2 teaspoon freshly grated horse radish
dash of Worcestershire sauce
dash of hot sauce
dash of salt and pepper
Shake ingredients, over ice, in a cocktail mixer. Pour mixture and ice into an imperial pint glass and garnish, using one of those cool little plastic swords they have, with:
1 rib organic celery, with leafy bits still attached
3 Extremadura olives (pitted and pimiento-ed ahead of time by your valet)
3 caper berries
"For I am a sinner in the hands of an angry God. Bloody Mary full of vodka, blessed are you among cocktails. Pray for me now and at the hour of my death, which I hope is soon. Amen." - Sterling Archer
Appearances
Edit
In "The Double Deuce" - Woodhouse serves Archer a pitcher full for breakfast. Archer gives a crying Seamus a celery stick from his drink.
In "The Limited" - Archer drinks one on the train, and complains to the bartender that it's nothing more than ketchup and vodka. 
In "Crossing Over" - Archer drinks one of these to combat his hangover and says his Bloody Mary prayer.