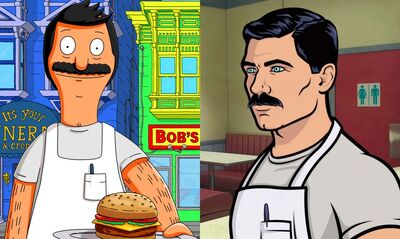 Bob Belcher is the titular character from FOX's TV show Bob's Burgers. Episode 1 of season 4, is a crossover episode in which Archer appears in a burger joint flipping burgers and is married to a woman named Linda and father of 3 kids who are the Belcher family of Bob's Burgers. Archer has forgotten who he is and has now assumed the identity of Bob.
H. Jon Benjamin, the voice of Archer, provides the voice for Bob on the show Bob's Burgers.
Archer bears an uncanny resemblence to Bob Belcher. 
Ad blocker interference detected!
Wikia is a free-to-use site that makes money from advertising. We have a modified experience for viewers using ad blockers

Wikia is not accessible if you've made further modifications. Remove the custom ad blocker rule(s) and the page will load as expected.