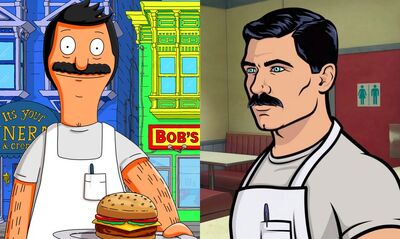 Bob Belcher is the titular character from FOX's TV show Bob's Burgers. Episode 1 of season 4, is a crossover episode in which Archer appears in a burger joint flipping burgers. He is married to a woman named Linda Belcher and the father of 3 kids who are the Belcher family of Bob's Burgers. Archer has forgotten who he is and has now assumed the identity of Bob.
H. Jon Benjamin, the voice of Archer, provides the voice for Bob on the show Bob's Burgers.
Archer bears an uncanny resemblence to Bob Belcher.