Brett Buckley
Talk

1
454pages on
this wiki
Brett
First appearance
Mole Hunt
Voiced by
Neal Holman
Information
Aliases
Mr. Bloodbank
Languages
English (native)
Affiliations
Nationality
American
Occupation
ISIS Employee
Personal Life
Brett Buckley is an ISIS employee who has been shot six times while employed there. His occupation at ISIS is unknown. Brett permanently walks with a cane, which is most likely due to one or both of his first gunshot wounds from Sterling Archer. He paid for the right to say he had sex with Lana in "Dial M for Mother."
During "Stage Two," when Brett learns of Sterling's breast cancer he makes a joke about Archer getting a disease that's most commonly suffered by women. Despite Sterling's good mood, he pummels Brett in response. He earned the nickname of "Mr. Bloodmobile" because of the all the times he has been shot for no reason.
He is voiced by Neal Holman, the production designer and art director of Archer.
Gunshot Wounds
Brett is a bullet magnet at ISIS headquarters. Whether he's hit by a ricochet while walking by or attempting to put his pants on, he always manages to get randomly shot.
1st Gunshot Wound
His first gunshot wound is by Sterling Archer in Mole Hunt. Archer shoots multiple times at the ISIS mainframe's door and one of the bullets ricochet and hits Brett, likely in his leg.
2nd Gunshot Wound
In the locker room during "Diversity Hire" during a competition with Conway Stern, Archer tries to prove the stopping power of his small gun by shooting Brett while he puts on his pants.
3rd Gunshot Wound
Brett suffers a third gunshot wound when Rona Thorne tries shooting an automatic weapon at the ISIS shooting range. As an apology, Rona tells Brett to get a new suit and charge it to her manager.
4th Gunshot Wound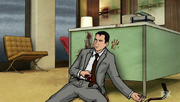 His fourth gunshot wound is provided by Cyril in "El Secuestro." This wound occurred during an ISIS lockdown and was much more serious than the rest. After being forced to cover reception and answer the phones, he eventually passes out.
5th Gunshot Wound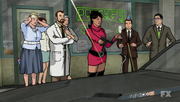 Brett suffers a fifth gunshot wound when Lana demonstrates how Archer's new car is bulletproof.
6th Gunshot Wound
Brett is shot a sixth time in Skin Game by Archer during an ISIS lockdown and the subsequent shutdown of all of power and lighting within the building.
Other Injuries
In Skin Game Brett is horribly beaten by Barry Dylan when he is sent to get alcohol by Archer for his wedding with Katya Kazanova after which Barry scrawled "Barry Was Here; So Was Other Barry" on the back of the elevator in Brett's blood. He was also beaten badly by Archer after laughing at his breast cancer.
Brett's status is currently unknown.
Catchphrase
Whenever Brett is shot he always yells the same thing "God damn it! (the name of whoever just shot him)!".