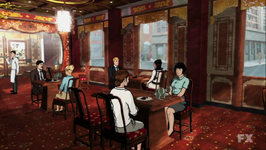 The
Chinese restaurant
is a popular lunch destination for the
ISIS
employees. The name of this business is not known, but in "Honeypot", the top line of the menu which is presumably the name of the restaurant, written in Simplified Chinese, roughly translates into "Stir-Fried East Coast White Dog Poop" (干煸东岸白狗便便). They wrap all their guests
leftovers
in tinfoil and sculpture it into a swan.
The location of this restaurant is not quite clear. In "Mole Hunt," it seems to be far enough from ISIS headquarters that Archer needs a cab to get back to the office. However, it is possible that Archer is just ultra-lazy or didn't go back to the office. Also, when Crenshaw is holding Malory hostage outside of the Four-Five-Six Laundry a Chinese restaurant appears across the street from the location. However, this could just be a coincidence.
In "Honeypot" it appears to be within walking distance, because Malory walks to the restaurant from ISIS Headquarters while talking on the phone.
Appearances
Edit
The restaurant appears in many episodes, sometimes the ISIS employees eat there, sometimes they apparently just use it as a public place to meet or discuss.
Ad blocker interference detected!
Wikia is a free-to-use site that makes money from advertising. We have a modified experience for viewers using ad blockers

Wikia is not accessible if you've made further modifications. Remove the custom ad blocker rule(s) and the page will load as expected.