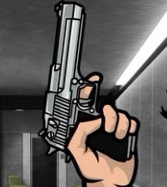 The Desert Eagle Mark VII Handgun (chambered for .357 Magnum, .44 Magnum or .50 Action Express) was introduced in 1983.
Barry Dylan's weapon of choice is the Desert Eagle, he was going to use it to kill Sterling Archer during "Job Offer," and he can be seen cleaning and talking to one during "A Going Concern." Ramon Limon also had a Desert Eagle during the ambush at Malory's South Beach apartment, and Lana Kane used one to temporarily deafen Archer on the firing range in "Movie Star."
There is also a Desert Eagle magazine that Barry Dylan reads while guarding ISIS headquarters to ensure ODIN's deal to purchase ISIS goes through.
Ad blocker interference detected!
Wikia is a free-to-use site that makes money from advertising. We have a modified experience for viewers using ad blockers

Wikia is not accessible if you've made further modifications. Remove the custom ad blocker rule(s) and the page will load as expected.