El Secuestro
Talk

0
454pages on
this wiki
El Secuestro
Archer
Episode no.
Season 2
Episode 10
Written by
Adam Reed
Production code
XAR02010
Original air date
March 31, 2011
Episode guide
"El Secuestro" is the tenth episode of the second season of Archer.
Cheryl was targeted for a kidnapping, but she misleads the kidnappers into thinking Pam is her. When Cheryl gets to ISIS, she explains her tardiness by revealing that she was the target of a kidnapping. When Malory asks why anyone would want to kidnap her, Cheryl reveals that she is a member of the Tunt family (not Gimple as it says on her W-4). The Tunts are a wealthy railroad family. Cheryl proves this by taking the ISIS crew to her mansion home. She then reveals she's worth about $500 Million, after splitting a $1 Billion inheritance with her "gross" brother. Malory decides ISIS needs to protect Cheryl, for a fee of course.
The kidnappers beat Pam, but she's tough enough to withstand it and insult the kidnappers. When they realize they have the wrong woman, they call ISIS using a voice changer. As Archer and Lana try to convince the kidnappers to let Pam go, Malory gets on the phone and tries to make a deal with the kidnappers. They can't agree to switch Pam with Cheryl, and Malory states she thinks Pam is only worth $5,000.
Before Pam is killed, she agrees to help the kidnappers get Cheryl, and they go off to sneak into ISIS. Cyril, realizing Cheryl is not willing to return the $37,000 amount he lent her from his 401k, kidnaps her for a ransom and handcuffs her to a pipe away from all the others. While calling ISIS and using a voice changer, he attempts to bargain a ransom from ISIS in exchange for Cheryl, but Lana catches him.
Archer finds Cheryl, who he believes 'kidnapped herself.' Once they are with the others, Pam and the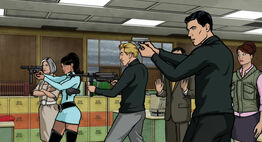 kidnappers arrive. A shootout commences, with most of the kidnappers being killed the survivor admits surrender lana tells him to put his hands up and asks pam if she's okay. Pam asks "Do you people even give a s***?!" as she snaps the surviving kidnappers neck killing him instantly.Her co-workers are shocked and pam bemoans her day by saying"Cheryl's dumba** gets me kidnapped then gets the s*** knocked out of me all day and no one tries to rescue me!"
Ray blames Archer who tells him to shut up but Pam says"YOU SHUT UP MR.PAM'S NOT WORTH IT!" scaring archer.Pam is extremely upset that the team failed to help her and shot a bunch of ahole bullets her. However, she is most upset with Malory, for putting a low price on her life. The others stay back as Pam approaches Malory, ready to beat her up, saying "Well, let's see how much you wiggle when I'm whipping 5000 bucks' worth of your ass!" Malory asks is anyone is going to help her, but no one will. Archer says "Let her have this one" which shocks his mother. Pam challenges anyone to help, saying "Anybody want a piece of this?!" as she removes her tank top, revealing her terrifying tattoo and her muscles. Echoing the sentiment of the rest who are silenced with fear, Lana states, "Nope."
"
FOR THE ANGEL OF DEATH
SPREAD HIS WINGS ON THE BLAST,
AND BREATHED IN THE FACE
OF THE FOE AS HE PASSED;
AND THE EYES OF THE SLEEPERS
WAXED DEADLY AND CHILL,
AND THEIR HEARTS BUT
ONCE HEAVED
AND FOR EVER GREW STILL!
"
Main Cast
Edit
Gallery of Images
Edit
There are 19 screenshots and images from "El Secuestro" on this Wiki, visit the category page for a complete gallery.