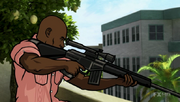 The Heckler & Koch MSG90 Sniper Rifle is a West German made sniper rifle it uses a standard NATO 7.62mm round and is effective at up to 800 meters. It is actually a cheaper version of the PSG-1.
Background
Edit
Conway Stern uses a PSG-1 to provide sniper support to Sterling Archer during a mission to South Beach. Conway's weapon has a modified stock and is fitted with a suppressor.
Except in one instance, it is the standard sniper rifle of ISIS agents. Lana Kane uses a PSG-1 mounted on a tripod to cover Soviet Premier Kolchenko's entrance into the UN in the episode Movie Star.
Ad blocker interference detected!
Wikia is a free-to-use site that makes money from advertising. We have a modified experience for viewers using ad blockers

Wikia is not accessible if you've made further modifications. Remove the custom ad blocker rule(s) and the page will load as expected.