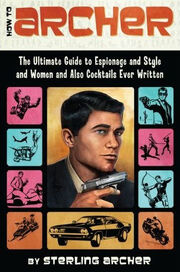 How to Archer: The Ultimate Guide to Espionage and Style and Women and Also Cocktails Ever Written is a how-to book written by Sterling Archer. It was released on January 17, 2012 in the US,[1] and on February 10, 2012 in the UK.
Description
Edit
"Hi. I see you're reading the back of my book. This tells me that you either:
A) are hoping to find a brief summary of what to expect from a how-to book by Sterling Archer, the world's greatest secret agent, or B) don't know how books work.
If your answer was "A," your best bet is probably the table of contents, which is where you'll find the "contents" of this book listed in a convenient, easy-to-read "table" format. So maybe go check that out for a minute and then come back here. I'll wait...
Pretty cool, right? What other book will teach you how to dress properly and how to drive an elephant? How to field strip an AK-47 and how to haggle with a Thai prostitute—in her native tongue? How to pilot an airboat and how to make about a million delicious cocktails, including a Molotov one? How to kill a guy and how to prepare a fabulous brunch? Plus how to do tons of other stuff that I forgot, but that is nonetheless probably in this book (which, to be honest, I really only kinda skimmed).
So if you want to learn more about how to be more—or at all—like Sterling Archer, the world's greatest secret agent, quit smearing your greasy fingerprints all over this book and buy it. For one thing, I really need the royalties. For another thing, the last time I checked, this wasn't a damn library."
Foreword
Preface
Introduction
Section One: How to Spy
Edit
General Tradecraft
Unarmed combat
Weaponry
Gadgets
Stellar Navigation
Tactical Driving
Other Vehicles
Poison
Casinos
Surveillance
Interrogation
Interrogation Resistance
Escape and Evasion
Wilderness Survival
Cobras
Section Two: How to Drink
Edit
Section Three: How to Style
Edit
Valets
Clothes
Shoes
Personal grooming
Physical Fitness
Section Four: How to Dine
Edit
Dining out
Dining In
Recipes
Section Five: How to Women
Edit
Amateurs
For the Ladies
Professionals
The Archer Sutra
Section Six: How to Pay for It
Edit
Personal Finance
Appendix A: Maps
Appendix B: First Aid
Appendix C: Archer's World Factbook
Afterword
Acknowledgements
Selected Bibliography
About the Author
"Sterling Archer is the world's greatest secret agent and now also probably a bestselling author. A world-class cocksman and former all-conference preparatory school lacrosse player, he divides his time among New York City, Monte Carlo, the Orient, several of the classier islands of the Caribbean, and Gstaad. This is his first book."
References
Edit