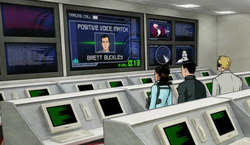 The ISIS Situation Room or Control Room is the center of operations for many ISIS missions. Ray Gillette and Bilbo are often seen working here. It can perform and serve many functions, including:
Monitoring Nuclear Weapons
As described by Pam, the room is one big asbestos lawsuit waiting to happen. Cyril is later shown having an armful of claims forms.
Ad blocker interference detected!
Wikia is a free-to-use site that makes money from advertising. We have a modified experience for viewers using ad blockers

Wikia is not accessible if you've made further modifications. Remove the custom ad blocker rule(s) and the page will load as expected.