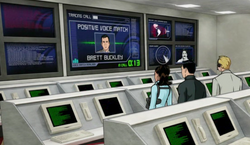 The ISIS control room is the center of operations for many ISIS missions. Ray Gillette and Bilbo are often seen working here. It can perform and serve many functions, including:
Monitoring Nuclear Weapons
As described by Pam, the room is one big asbestos lawsuit waiting to happen. Cyril is later shown having an armful of claims forms.