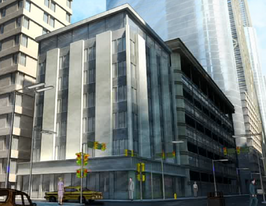 ISIS headquarters
is the home base of operations of the
International Secret Intelligence Service
(
ISIS
). It is located in New York City on the corner of a busy city block.
Malory Archer
is the owner and spymaster for ISIS. She also owns the entire building that ISIS is run out of, however she has leased out 3 of the floors for financial reasons.
The bottom floor was 4-5-6 Laundry, a wash and fold operated by an Indian-American owner. It has since been sold to Popeye a former loan-sharking pimp gone legitimate, who renamed the business Popeye's Suds and Duds.
Offices and Rooms of ISIS
Edit
In the pilot Mole Hunt, ISIS HQ is in a different building, one of an older brick skyscraper design. All subsequent episodes show it in a more modern building.
In the episode El Secuestro, the ISIS sat link screen shows ISIS HQ at GPS coordinates 33.806333, -84.344165. This actually appears to be the location in Atlanta of Floyd County Productions.
Ad blocker interference detected!
Wikia is a free-to-use site that makes money from advertising. We have a modified experience for viewers using ad blockers

Wikia is not accessible if you've made further modifications. Remove the custom ad blocker rule(s) and the page will load as expected.