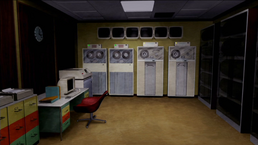 The
ISIS mainframe
is a room in
ISIS
headquarters that houses some of the primary computer records for the office. It's also where the backup battery shutdown is located. This room is the target of
Archer's
plan to gain access to so he can modify the records of his expense account. The mainframe is password protected, but the password is "guest."
A sign posted on the door states that mainframe access is restricted to section heads only. This is true despite the fact that in later episodes the mainframe door is practically always open.
Security Measures
Edit
There are three countermeasure systems designed to prevent unauthorized access to the mainframe. They are supposed to make Fort Knox look like a gingerbread house. Though in actuality, it's not that useful.
Appearances
Edit
Ad blocker interference detected!
Wikia is a free-to-use site that makes money from advertising. We have a modified experience for viewers using ad blockers

Wikia is not accessible if you've made further modifications. Remove the custom ad blocker rule(s) and the page will load as expected.