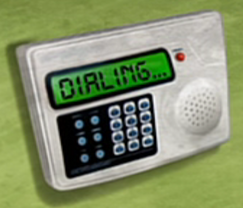 The
ISIS security system
is the series of alarms and security protocols designed to prevent unauthorized entry. Despite the fact that
ISIS headquarters
is a world-class spy agency, if unauthorized entry is detected it uses a standard security telephone call-tree protocol.
The telephone call-tree protocol is a system in which an activated alarm triggers a phone call to the alarm company. The alarm company then calls certain employees, at ISIS the call-tree definitely includes Lana and Malory. After calling the employees, the police are called.
It also includes security shutters, fingerprint scanners and retina scanners. It can be enabled and disabled with a through the telephone system. However, if it accidentally disabled the system cannot be re-armed for ten minutes.
Security Code Commands
Edit
The system is armed and disarmed via a telephone. The following code commands are known:
. #. 6. #. 5. 2. Total Lock Down: all security systems will be activated and on high alert
. *. 6. Complete Security Reset: all security systems will reset to the original configuration and remain deactivated for 10 minutes
Operating System Features
Edit
This system is powered and controlled by the ISIS mainframe and all the information is stored in servers inside the mainframe. The security system is programed to:
Gathers event from System Management Facility and an Operating System interface
Use servers records to create and update profiles
Record user activity and then check during real-time monitoring looking for anomalies
Define specific security events with an Application Programming Interface (API)
Configurable rules within the interface to filter out non-critical events
Security events are passed to outside devices that are previously programed to receive the data
Run every access thru a state of the art Firewall
Accept interlink number codes or voice commands given by direct line or mobile phone
Control security camaras and editing programs
Allow security chages after the user pass clearance to mainframe or servers
Allow access to secured areas after optaining clearance code from biometric systems of all kinds