Jonathan Kimble "J. K." Simmons (born January 9, 1955) is an American actor and voice actor. His best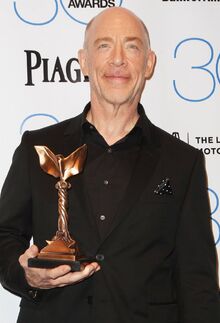 known live-action television roles are Dr. Emil Skoda in the NBC crime drama franchise Law and Order, Aryan Brotherhood leader Vernon Schillinger on the HBO prison drama Oz, and assistant police chief Will Pope on TNT's The Closer. His best known live-action film roles are as J. Jonah Jameson in Sam Raimi's Spider-Man trilogy, BR in the satirical dramedy Thank You For Smoking, antagonistic jazz drumming instructor Terence Fletcher in the psychological drama Whiplash, and Detective O'Brien in Terminator Genisys. His best known animated television roles are as White Knight in Cartoon Network's science fiction action series Generator Rex, Tenzin in Nickelodeon's The Legend of Korra, Lennie Turtletaub on Netflix's BoJack Horseman, Stanford "Ford" Pines in the second half of Season 2 of Disney Channel/Disney XD's Gravity Falls, and reprising his role as J. Jonah Jameson in various Marvel animated series. His best known animated film roles are as the prison warden in DreamWorks Animation's Megamind, the villain Kai in Kung Fu Panda 3, and as Mayor Lionheart in Disney's Zootopia. He is also known for voicing Cave Johnson in the first-person puzzle video game Portal 2, the Yellow M&M in commercials for M&M chocolate candies, and has appeared in commercials for Farmers Insurance. He is set to play Commissioner James Gordon in future installments of the DC Extended Universe beginning with Zack Snyder's Justice League Part 1 in November 2017. He currently plays Detective Harris on Season 7 of Archer.
External Links
Edit
Ad blocker interference detected!
Wikia is a free-to-use site that makes money from advertising. We have a modified experience for viewers using ad blockers

Wikia is not accessible if you've made further modifications. Remove the custom ad blocker rule(s) and the page will load as expected.