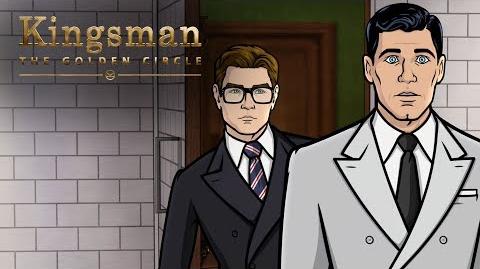 Comic-Con's Kingsman: The Golden Circle panel got off to an unexpected start in San Diego on Thursday when Taron Egerton's Eggsy entered the animated world of the FXX comedy Archer, in a video short screened for the Hall H audience. The suave superspy ran into Sterling Archer (voiced by H. Jon Benjamin), who stumbled into the Kingsmen's secret arsenal hidden in the bespoke suit shop. There, he helped himself to guns and alcohol. Fighting to reclaim the goods, Eggsy challenged his unwanted guest to "the most gentlemanly of competitions": a drinking contest.
Sterling's plummet to the floor after chugging too much whiskey was Eggsy's first encounter with an American spy — and he was underwhelmed. He'll be meeting many more of them, though, in the movie, The Golden Circle, which sees Eggsy teaming up with the Kingsmen's overseas brothers, The Statesmen.
Ad blocker interference detected!
Wikia is a free-to-use site that makes money from advertising. We have a modified experience for viewers using ad blockers

Wikia is not accessible if you've made further modifications. Remove the custom ad blocker rule(s) and the page will load as expected.