Krieger's Van
First appearance
"Double Trouble"
Make/Model (approximate)
1978 GM G-Series Van
Information
Owner
Doctor Krieger
Primary Color
Black with custom mural
Details and Features
Organization
Personal
Purpose
Personal Transportation, Taping Bum Fights
Special Features
Tinted windows, chain steering wheel, privacy curtains
Doctor Krieger's Van is a large 1978 GM G-Series conversion van, similar to the Kidnapper's Van except it has a painted mural on the side with the sliding door. The mural is an homage to the band Rush and their Exit...Stage Left album cover.
Inside, Doctor Krieger has a chain steering wheel, two sets of leopard print curtains and heavily tinted black windows. Lana Kane says the van, "is like rolling probable cause," meaning that police officers wouldn't need much of an excuse to pull the driver over for suspicion. Malory is embarrassed to be in the van, and calls it the "S.S. Date Rape."
The van was heavily damaged when Katya Kazanova fell on top of it. A second look provided in "Heart of Archness: Part I shows that the van was likely totalled.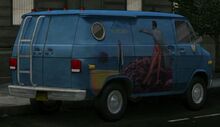 Krieger's new van, first seen and subsequently destroyed in
The Man From Jupiter
, is a homage to Rush's album
Hemispheres
.
In the season 3 finale, Space Race, Krieger's van borrows its name (Caress of Krieger) and appearance from the Rush album Caress of Steel.
Trivia
This is likely the same van that Krieger was using to tape bum fights, as referenced in "Honeypot."
Gallery of images
There are 3 images of Krieger's Van on this Wiki, visit the Krieger's Van gallery to view all the images and screenshots. Here is a sample of four images from the gallery: