Lana Kane
Talk

0
501pages on
this wiki
Lana Kane
First appearance
"Mole Hunt"
Voiced by
Aisha Tyler
Information
Height
6'0
Eyes
Green
Hair
Brown
Aliases
Truckasaurus, Monster Hands, Shirley Temper, Spray and Pray
Languages
English (native)
French (conversant)
Italian (conversant)
Romansh (conversant)
Affiliations
Nationality
American
Occupation
ISIS agent
Skills
Counter Sniper, Speaks French
Personal Life
Family
Abbiejean Kane-Archer (daughter)
Relationships
Cyril Figgis (ex-boyfriend)
Sterling Archer (child's father/ex-boyfriend)
Joshua Gray (ex-boyfriend)
Lana Kane (voiced by Aisha Tyler) is a field agent at ISIS as well as Sterling's former girlfriend and the mother of his child. Lana has aspirations for advancement as a master spy and has considered positions offered by ODIN, both at their international headquarters ("Job Offer") and as Regional Director for the Americas ("A Going Concern"), although her strongly leftist views often cause friction between her and her job. Lana is known to have very strong hands of Johnny Bench-ian proportions which are a source of constant ridicule by her coworkers.
Background
Edit
Lana got her job as an ISIS agent during a protest at a local furrier. She was about to throw red paint on Malory Archer's new fur, when Malory pointed her gun at Lana's forehead. The rest of the protestors fled, including Joshua Gray, but Lana was not intimidated. Malory, impressed by her nerve, offered Lana a job. Three weeks later she was on her first mission in Tunisia "killing a different man," referencing that Malory's first mission was in the same country. 
Lana ended a long term relationship with Sterling, due mostly to his cheating on her. Although, his very demanding relationship with his mother did not help either. However it is shown that both Sterling and Lana have lingering feelings for each other and still care for each other, although they often bicker. In the episode "Stage Two," Archer thought he was going to die of breast cancer, he convinced Lana (out of pity) into a one night stand. During the affair, he appeared to want to tell Lana his true feelings, however, that was interrupted. In "Sea Tunt: Part II," Archer confesses to Lana he loves her, which Lana acknowedges, but does not return. In the season five finale, it is revealed that Lana does love Archer right before she reveals his paternity of their daughter.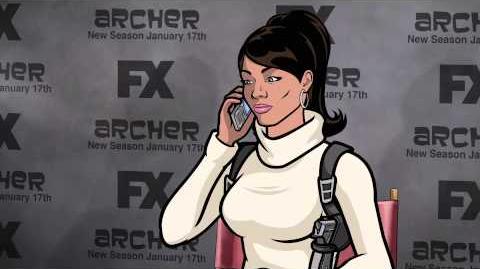 Lana also dated ISIS comptroller Cyril Figgis for a time, to the mystification of her colleagues. That relationship ended when she walked in on him cheating on her with Framboise. Her relationship with Cyril may have been due to the fact that he was perceived as a more stable partner compared to her earlier relationship with Sterling (or subconsciously as a means to spite Archer). She quietly admitted was much more comfortable with him since his mother had "died in a fire." After discovering Cyril had cheated on her many times during their relationship (despite many times it was a result of him being blackmailed, although she claimed his cheating was "ten times worse" than Archer), their relationship fell apart completely. Lana later paired up again with Cyril in "Viscous Coupling", although it was more out of desperation for companionship and sexual satisfaction than any genuine attraction, This second attempt at a relationship fell apart due to Cyril's increased paranoia caused by Pam and Cheryl's meddling, and culminated in another breakup once Lana announced her pregnancy through a sperm bank, which she did without telling him prior.
Lana also has a strong desire to have a baby. In "Blood Test," she propositions both Sterling and Ray Gillette to have a child (albeit while drunk). In "The Honeymooners," while climbing a skyscraper, she seriously considered the notion of having a baby with Archer (partially to annoy him and partially because the two of them would produce a beautiful child), but quickly disregarded the idea and instead decided on Cyril. That decision was quickly overturned because of underlying trust issues between the two of them. In "Sea Tunt: Part II," Lana tells everyone she is pregnant and confirms Cyril is not the father, much to his chagrin. She later revealed that the father was a sperm donor, which has been used as a point of ridicule against her ever since. In "Archer Vice: Arrivals/Departures", Lana gives birth to a girl, which she reveals to Archer that he is the father by using his frozen sperm. Despite her problems with Archer in the past, she appears to genuinely care about him and she peacefully introduces him to their daughter. This appears to be her attempt at trying what Archer suggested earlier in the season: Starting a family, so that her daughter can have a father in her life.
Despite Lana's undeniable good looks, she is also very insecure about her appearance when it's called into question. She brags about her shaven vulva in "Skytanic " and insists that her breasts haven't started to sag, even demanding that her collegues take notice of this in the middle of a firefight on a space station in "Space Race: Part II." She also seems to have a great deal of difficulty with relationships, declaring she had gone on "tons of dates", when in reality she had not had sex in the last fourteen months. She claims her trouble with relationships stem from her time dating Archer, which resulted in a number of severe trust issues.
Kynyetta Lester served as the body model for Lana.
Lana frequently wears a mini sweater dress and small white hoop earrings.
She was formerly a radical environmentalist (Pipeline Fever), although she still expresses many left-wing opinions, which often cause her to be excluded from missions, albiet questionable ones such as blowing up an oil pipeline. Despite this, Lana is openly anti-immigration, at least towards illegal immigrants.
When she started at ISIS Lana had an afro, which is large enough for Joshua Gray to pull a joint and a pencil out of. Archer said made her look like the love child of Angela Davis and "Sweet" Lou Dunbar.
She has $420,675 in her ISIS 401(k) - "Jeu Monégasque"
Lana's sidearm of choice is a fully automatic TEC-9, of which she carries two. She has a reputation of firing at full automatic without taking the time to aim, which earned her the nickname "Spray and pray" during basic training. She is also known to questionably carry only two spare magazines of ammunition.
Often uses the word "Yup!" with a hearty, back-of-the-throat emphasis on the "u", and "Nope!" with a similar emphasis on the "o."
She is often seen drinking bottled orange soda from the ISIS vending machines which she can open without a bottle opener - and they aren't twist offs (Drift Problem).
Lana is straight, although she once had pity sex with Pam in the episode Dial M for Mother, though she quickly declared she was going to pretend Pam was Alex Karras during it.
Her blood type is A-negative.
Lana's name is a play on Lanacane (a trade name of benzocaine), a brand of itch-reliever.
Archer is the reason for her getting crabs twice (Heart of Archness: Part II)
Gave birth to Archer's daughter through artificial insemination. (Archer Vice: Arrivals/Departures)
"NOOPE!"
"YUUP!"
"What the shit?"
"Hey, Jane. You gettin' a tampon?"
"So don't speak to me, Ever! And while you're not speaking to me, jump up your own ass and die!" (To Archer in Mole Hunt)
"Or ass level, which in your case would also take off your head." (To Cyril El Contador)
"Thanks, no I'm allergic to cat piss…go away."(To Uta Killing Utne)
"It might sound like I'm hanging up but........"
"They look exactly nothing alike." (On Archer's confusion of smoke grenades and deadlier explosives in "Placebo Effect")
Gallery of Images
Edit
There are
77
images of Lana Kane on this Wiki, visit the
Lana Kane gallery
to view all the images and screenshots. Here is a sample of four images from the gallery: