The following is the list of episodes for
Archer
. For a guide view with details, go to
Episode Guide
.
Archer'
s
first season
consisted of 10 episodes, airing between September 2009 and March 2010, The FX Network ordered a 13-episode
second season
of
Archer
which aired between January and April 2011. The
third season
aired from September 2011 to March 2012. FX ordered an upcoming
fourth season
of
Archer
with 13 episodes.
Season 1 episodes (2009-2010)
Edit
Season 1
ARCHER
Production
Production Company
Floyd County Prod.
Country of Origin
United States
No. of Episodes
10
Broadcast
Original Channel
FX
Premiere Airdate
September 17, 2009
Finale Airdate
March 18, 2010
Home Video Release
DVD ( Region 1 )
December 28, 2010
DVD ( Region 2 )
May 03, 2011
DVD ( Region 4 )
March 02, 2011
Season Chronology
Quick Season Navigation
s1

 · 

s2

 · 

s3

 · 

s4

 · 

s5

 · 

s6

 · 

s7

 · 

s8

 · 

s9

 · 

s10
The first season of Archer commenced airing on January 14, 2010 with a one-hour premiere consisting of two episodes. It concluded on March 28, 2010 containing 10 episodes. The first episode, "Mole Hunt", was aired as a sneak-peek on September 17, 2009.
Season Synopsis
Edit
Suave secret agent Sterling Archer is the world's most dangerous spy, but political intrigue and global crises are nothing compared to the sexual tension and human resources crises at the intelligence agency where he works. Archer must deal with his over-bearing, over-sexed mother--who is also his boss--and his femme fatale ex-girlfriend who seems to be sleeping with everyone except him. Embezzlement, mind control, hangovers, and demented double crossings--they're all in a day's work in this outrageously raunchy comedy!
( v )    Screenshot          
Episode Title
Original
Air Date
Production Code
Season Ep. #
Overall Ep. #
"Mole Hunt"
September 17, 2009
AR01001
1
1
Sterling Archer is questioned by his boss and mother, head of ISIS, Malory, about discrepancies in his expense account. Meanwhile, they begin searching for a mole in their company.
"Training Day"
January 14, 2010
XAR01002
2
2
Sterling begins training Cyril to become an ISIS field agent when Malory promotes him from being a comptroller.
"Diversity Hire"
January 21, 2010
XAR01004
3
3
A new field agent makes a splash at ISIS, but Archer and Lana suspect there may be something all too perfect about their new diversity hire.
"Killing Utne"
January 28, 2010
XAR01003
4
4
Malory hosts a dinner party for the UN intelligence chairman, Torvald Utne, in an effort to get a new weapons contract for ISIS. Unfortunately, a group of rival assassins have targeted Mr. Utne for elimination.
"Honeypot"
February 4, 2010
XAR01005
5
5
Malory's career is threatened when a sensitive videotape falls into the hands of a rogue (and roguish) Cuban agent, so she calls on Archer's expertise in seduction to turn the tables on her blackmailer.
"Skorpio"
February 11, 2010
XAR01006
6
6
Archer must rescue Lana from the clutches of Skorpio, the infamous arms dealer. Meanwhile, Cyril fears not only for his girlfriend's life, but her succumbing to the seductive nature of Archer's heroics.
"Skytanic"
February 18, 2010
XAR01007
7
7
When a bomb threat jeopardizes the maiden voyage of the luxury airship Excelsior, Archer and the ISIS crew must battle the clock (and each other) to avert disaster.
"The Rock"
March 4, 2010
XAR01008
8
8
ISIS loses yet another contract to ODIN, so Malory assigns Archer and Lana to steal a priceless diamond from ODIN's biggest client in order to embarrass the rival spy agency.
"Job Offer"
March 11, 2010
XAR01009
9
9
Archer takes a better-paying job at rival agency ODIN, and Malory is determined to get him back.
"Dial M for Mother"
March 18, 2010
XAR01010
10
10
Questions about the identity of Archer's real father lead him into a perilous trap... and an explosive confrontation with Malory.
Season Cast
Edit
Guest Starring : ( Listed Alphabetically )
Co Starring : ( Listed Alphabetically )
Archer was one of three new comedy pilots ordered by FX in July 2009. The other two pilots ordered were for The League (2009-2015) and Louie (2010-Present), both of which were included as bonus material on the Archer's season 1 DVD.
In 2009, FX network officially greenlit production of the series, ordering six episodes and an additional four scripts. [1]
FX originally planned on pairing Archer with the fifth season of the network's situation comedy It's Always Sunny in Philadelphia on Thursday nights believing it would find support among their fans.[2] However, the network learned of the month-long production period needed to create the necessary six episodes, and realized that there was not enough time to have all of the episodes ready before Philadelphia began its new season.[3]
FX instead decided to release a sneak airing of the pilot episode "Mole Hunt" on September 17, 2009, without any promotion or announcement.
Home Release
Edit
Main article: Archer: The Complete Season One (DVD)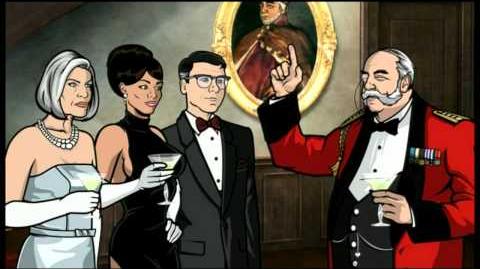 External Links
Edit
References
Edit
Season 2 episodes (2011)
Edit
Season 2
ARCHER
Production
Production Company
Floyd County Prod.
Country of Origin
United States
No. of Episodes
13
Broadcast
Original Channel
FX
Premiere Airdate
January 27, 2011
Finale Airdate
April 21, 2011
Home Video Release
DVD ( Region 1 )
December 27, 2011
DVD ( Region 2 )
March 26, 2012
DVD ( Region 4 )
February 29, 2012
Season Chronology
Quick Season Navigation
s1

 · 

s2

 · 

s3

 · 

s4

 · 

s5

 · 

s6

 · 

s7

 · 

s8

 · 

s9

 · 

s10
The second season of Archer consisted of 13 episodes and commenced airing on January 27, 2011 with the season finale aired on April 21, 2011.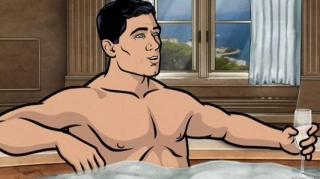 Episodes
Edit
( v )    Screenshot          
Episode Title
Original
Air Date
Production Code
Season Ep. #
Overall Ep. #
"Swiss Miss"
January 27, 2011
XAR02002
1
11
ISIS agents head to the luxury winter resort town of Gstaad to protect a German billionaire's daughter from a kidnapping threat. But Archer soon finds out the real threat is his protectee: an underage nymphomaniac who will stop at nothing to bed the world's greatest spy.
"A Going Concern"
February 3, 2011
XAR02006
2
12
Broke after having been wiped out in a Ponzi scheme, Malory decides to sell ISIS to rival spy agency ODIN, whose chief happens to be in love with her. Not surprisingly, the ISIS staff tries to stop the sale---and the romance.
"Blood Test"
February 10, 2011
XAR02001
3
13
Trinette tries to accuse Archer as to being the father of her baby son, Seamus. Archer tries as much as he can to get out of paying child support if the paternity test passes, but begins growing a bond with the child.
"Pipeline Fever"
February 17, 2011
XAR02007
4
14
While Malory tries to make ISIS a green workplace, Archer and Lana head to the Louisiana bayous to prevent a dangerous eco-terrorist from bombing America's largest natural gas pipeline.
"The Double Deuce"
February 24, 2011
XAR02004
5
15
Secrets of Woodhouse's past make him the seeming target of an assassin. Archer gets mildly concerned about it.
"Tragical History"
March 3, 2011
XAR02005
6
16
Tired of his colleagues constantly calling him a failure, Cyril agrees to help George Spelvin, a mysterious computer security expert, inject a pirate virus into the ISIS mainframe so Cyril can defeat the virus and be seen as a hero.
"Movie Star"
March 10, 2011
XAR02003
7
17
As research for an upcoming role, Hollywood starlet Rona Thorne shadows Lana, and Archer can not help but to compete for the movie star's attention.
"Stage Two"
March 17, 2011
XAR02008
8
18
Archer finds out after a test that he has stage two breast cancer.
.
"Placebo Effect"
March 24, 2011
XAR02009
9
19
When Archer discovers that the pills he has been taking for his breast cancer are counterfeit, he goes on a hunt to destroy the criminals who did this to him.
"El Secuestro"
March 31, 2011
XAR02010
10
20
Pam gets kidnapped when she is mistaken for Cheryl by bandits who are after her wealth.
"Jeu Monégasque"
April 7, 2011
XAR02011
11
21
Malory brings Archer, Ray, and Lana to Monte Carlo when she tries to stop one of her sex tapes from being released. Archer loses all of the blackmail money by gambling and has to get it back.
"White Nights"
April 14, 2011
XAR02012
12
22
Archer searches for his father's identity behind the Iron Curtain, where he falls in love and runs into trouble, requiring the rescue efforts of ODIN agent Barry Dylan.
"Double Trouble"
April 21, 2011
XAR02013
13
23
Suspicion and jealousy arise at ISIS as Doctor Krieger works to finish a top-secret project, and Archer brings a mysterious former KGB agent named Katya Kazanova home to meet Malory.
The opening Title Sequence was changed to include Amber Nash beginning with the first episode "Swiss Miss".
Some other changes were noticed by fans of the show. One of the most notable being Archer's skills as the "world's most dangerous spy." In Season 1, his skills as a spy were not showcased very often, so many fans believed he lacked many of the skills. This was proven otherwise with this season's first episode, "Swiss Miss." Here Archer had many opportunities to show that he was a fairly capable field agent.
This season increased the show's focus on the Archer supporting cast. This included adding more frequent appearances by the character of Ray Gillette. Instead of being chained to the ISIS control room, he has now been able to get out and about as an ISIS field agent. Also, details about the backstories of Pam, Cheryl and Doctor Krieger were revealed.
Furthermore, this season saw the addition of numerous two-part episodes. These were episodes in which the broad story was told over two episodes. They didn't follow the traditional television model of adding a "to be continued" tag at the end, but they did end "Stage Two" and "White Nights" on somewhat dramatic cliffhangers.
On a side note, every episode of the second season starts with a character's face at least partially obscured by the TV rating box in the upper left corner of the screen. This was done on purpose by the creator as a protest to a previous accidental incident in which they refused to move the box.
External links
Edit
Season 3 episodes (2011-2012)
Edit
Season 3
ARCHER
Production
Production Company
Floyd County Prod.
Country of Origin
United States
No. of Episodes
13
Broadcast
Original Channel
FX
Premiere Airdate
September 15, 2011
Finale Airdate
March 22, 2012
Home Video Release
DVD ( Region 1 )
January 8, 2013
DVD ( Region 2 )
March 25, 2013
Season Chronology
Quick Season Navigation
s1

 · 

s2

 · 

s3

 · 

s4

 · 

s5

 · 

s6

 · 

s7

 · 

s8

 · 

s9

 · 

s10
The third season of Archer consists of 13 episodes. FX aired the first three episodes in September 2011 which followed the Sterling's actions after the finale of the second season. The remainder of season 3 continued airing on January 19, 2012. Notable guest actors signed on for the season include Burt Reynolds playing himself as Malory Archer's love interest, Michael Rooker as Sheriff E.Z. Ponder and Bryan Cranston as Commander Drake in the two-part season finale.
The season was initially ordered for sixteen episodes, but Adam Reed mistook the order for the first three episodes in September as part of a 13-episode order.
( v )    Screenshot          
Episode Title
Original
Air Date
Production Code
Season Ep. #
Overall Ep. #
"Heart of Archness: Part I"
September 15, 2011
XAR03001
1
24
After the death of his fiance, Archer goes missing for three months. Malory sends a former agent named Rip Riley to find him and bring him back. With Archer's resistance, he ends up stranding them out at sea and mixing them up with pirates.
"Heart of Archness: Part II"
September 22, 2011
XAR03002
2
25
Archer becomes leader of a pirate island and is enjoying the high life until a disgruntled islander calls mutiny. With Archer, his first mate Noah, and Rip Riley now trapped on the island, Ray and Lana go out to look for him.
"Heart of Archness: Part III"
September 29, 2011
XAR03003
3
26
Archer, Lana, Ray, Rip Riley and Noah attempt to escape the Pirate Fortress of Pangu Island, meanwhile Malory hardballs the negotiation for their ransom.
"The Man From Jupiter"
January 19, 2012
XAR03005
4
27
Burt Reynolds starts dating Archer's mom and boss, Malory. Archer tries to sabotage Malory and Burt's relationship while being chased by a Cuban hit squad.
"El Contador"
January 26, 2012
XAR03006
5
28
Cyril is promoted to field agent, while Malory institutes a strict drug testing policy for her employees. Neither of which sit well with the staff at ISIS. As Cyril is promoted to field agent, he accompanies Sterling and Lana to South America to collect on a bounty of $1,000,000 on Román Calzado. Ray, Cheryl, and Pam know they will not pass the drug test, so they enlist Doctor Krieger to help them pass.
"The Limited"
February 2, 2012
XAR03007
6
29
The Royal Canadian Mounted Police enlist the help of ISIS to transport a captured Canadian terrorist.
"Drift Problem"
February 9, 2012
XAR03008
7
30
Archer's surprise birthday present—a high-tech, souped-up spy car—leads to all sorts of other surprises as the car is stolen when Malory warns Sterling not to lose the car.
"Lo Scandalo"
February 16, 2012
XAR03004
8
31
Malory has the ISIS agents come to her apartment when she asks for help to dispose of the body of the Italian Prime Minister.
"Bloody Ferlin"
February 23, 2012
XAR03010
9
32
Archer must help Ray save his younger brother from a crooked sheriff in the backwoods of West Virginia.
"Crossing Over"
March 1, 2012
XAR03009
10
33
Archer's sex life compromises his effectiveness as an agent. When Nikoli Jackov defects to the United States, he is accidentally killed by Archer's drunken incompetence when he fails to guard the safe house.
"Skin Game"
March 8, 2012
XAR03011
11
34
Archer is faced with a dilemma when his murdered fiance, Katya, miraculously reappears... in Krieger's lab.
"Space Race: Part I"
March 15, 2012
XAR03012
12
35
Archer and his colleagues at ISIS voyage to the final frontier in an effort to prevent a catastrophe on the International Space Station.
"Space Race: Part II"
March 22, 2012
XAR03013
13
36
Archer and his colleagues at ISIS wish they had never voyaged to the final frontier in an effort to prevent a catastrophe on the International Space Station.
One alternate version of the Season 3 DVD cover features an image of Malory sitting cross-legged holding a cigarette and an empty cocktail glass. This pose is directly inspired from an image by acclaimed illustrator Robert E. McGinnis for the pulp noir Kill Now, Play Later.
The alternate cover also features Cyril Figgis in an outfit similar to Naked Snake (Big Boss) from the game Metal Gear Solid 3 Snake Eater, an extremely capable field agent, which is opposite of what Cyril is in the show.
External links
Edit
References
Edit
Season 4 episodes (2012-2013)
Edit
Season 4
ARCHER
Production
Production Company
Floyd County Prod.
Country of Origin
United States
No. of Episodes
13
Broadcast
Original Channel
FX
Premiere Airdate
January 17, 2013
Finale Airdate
April 11, 2013
Home Video Release
DVD ( Region 1 )
January 7, 2014
Season Chronology
Quick Season Navigation
s1

 · 

s2

 · 

s3

 · 

s4

 · 

s5

 · 

s6

 · 

s7

 · 

s8

 · 

s9

 · 

s10
The fourth season of Archer consists of 13 episodes.[1] Season 4 began January 17, 2013.
List of Episodes
Edit
( v )   Screenshot       
Episode Title
Original
Air Date
Production Code
Season Ep. #
Overall Ep. #
"Fugue and Riffs"
January 17, 2013
XAR04001
1
37
Archer has amnesia and decides the only cure is a spa weekend.
.
"The Wind Cries Mary"
January 24, 2013
XAR04003
2
38
Archer and his former best friend are holed up in the Vermont wilderness, fighting hard to come out on top.
"Legs"
January 31, 2013
XAR04004
3
39
Archer's fear of cyborgs hits home when Krieger offers to make robotic legs for Gillette.
.
"Midnight Ron"
February 7, 2013
XAR04005
4
40
The beginning of beautiful hatred between Archer and his new stepfather plays out as the two are chased by gangsters.
"Viscous Coupling"
February 14, 2013
XAR04006
5
41
Archer's former fiance wants him to save her cyborg boyfriend who is trapped in outer space. Archer wants...other things.
"Once Bitten"
February 21, 2013
XAR04007
6
42
Archer gets bitten in a special place by a snake.
.
"Live and Let Dine"
February 28, 2013
XAR04008
7
43
Archer, Lana, and Cyril go undercover in celebrity chef Lance Casteau's hellish kitchen.
"Coyote Lovely"
March 7, 2013
XAR04002
8
44
Archer goes to the Mexican border to find a notorious coyote.
.
"The Honeymooners"
March 14, 2013
XAR04009
9
45
Archer and Lana pose as newlyweds to stop a sale of enriched uranium.
.
"Un Chien Tangerine"
March 21, 2013
XAR04010
10
46
Archer and Lana extract an agent from Morocco only to find out his bark is worse than his bite.
"The Papal Chase"
March 28, 2013
XAR04011
11
47
Archer must rescue the Pope from an assassination plot using Woodhouse as a decoy. Operation Bad Habit is a go.
"Sea Tunt: Part I"
April 4, 2013
XAR04012
12
48
A mission to retrieve a missing hydrogen bomb gets dicey when ISIS runs into an underwater research center run by a rogue captain.
"Sea Tunt: Part II"
April 11, 2013
XAR04013
13
49
ISIS continues to negotiate with Captain Murphy who is threatening to launch his nerve gas armed missiles at several U.S. cities.
On the cover art of this season, Cyril is shown wearing an outfit similar to the legendary secret agent Naked Snake (Big Boss) from the game Metal Gear Solid 3 Snake Eater. He is also wrestling with a snake.
External links
Edit
References
Edit
Season 5 episodes (2014)
Edit
Season 5
Archer
Country of origin
United States
No. of episodes
13
Broadcast
Original channel run
FX
Home video release
DVD
TBA
Season chronology
Archer Vice is the name given to the fifth season of Archer. The season was ordered by FX on February 27, 2013, Archer Vice will consist of thirteen episodes and will begin airing on January 13, 2014 on Monday nights at 10 PM.
List of Episodes
Edit
Screenshot
Title
Original airdate
Production code
Season Episode #
Total Episodes #
White Elephant
January 13, 2014
XAR05001
1
50
Someone dies. Someone who has been with the ISIS crew from the beginning. And then things get crazy.
A Kiss While Dying
January 20, 2014
XAR05002
2
51
Archer, Pam, and Lana travel to Miami to visit some old friends. It's a fondue party!
A Debt of Honor
January 27, 2014
XAR05003
3
52
Pam makes a deal that puts everyone in danger. Archer dons his slightly darker black suit to save the day.
House Call
February 3, 2014
XAR05004
4
53
Archer stages an intervention for Pam, but it gets derailed by an unwanted guest.
Southbound and Down
February 24, 2014
XAR05005
5
54
Malory buys a bus and takes everyone on a road trip. Put that hammer down and give it hell.
Baby Shower
March 3, 2014
XAR05009
6
55
Archer decides to give Lana the perfect baby shower gift by forcing Kenny Loggins to sing a duet with Cherlene. Something something Danja Zown!
Smugglers' Blues
March 10, 2014
XAR05006
7
56
Archer embarks on a secret mission to Colombia.
The Rules of Extraction
March 17, 2014
XAR05007
8
57
Lana and Pam plan a spa day for Malory. Meanwhile, Archer, Ray and Cyril raft down a crocodile-filled river.
On the Carpet
March 24, 2014
XAR05008
9
58
Archer has a run-in with a shady arms dealer (voice of Christian Slater).
Palace Intrigue, Part I
March 31, 2014
XAR05010
10
59
Archer and the rest of the ISIS gang are the guests of Gustavo Calderon (Fred Armisen) and his wife Juliana (Lauren Cohan). Calderon is a big fan of Cherlene but Juliana is a bigger fan of Archer.
Palace Intrigue, Part II
April 7, 2014
XAR05011
11
60
Conclusion. Archer tries to keep a secret affair under wraps.
Filibuster
April 14, 2014
XAR05012
12
61
Interesting new roles are taken up by Cyril, Cherlene and Archer.
Arrival/Departure
April 21,2014
XAR05013
13
62
Archer helps Lana with the delivery of her baby, while Krieger tries to prevent the delivery of a deadly weapon.
Cite error: <ref> tags exist, but no <references/> tag was found
Ad blocker interference detected!
Wikia is a free-to-use site that makes money from advertising. We have a modified experience for viewers using ad blockers

Wikia is not accessible if you've made further modifications. Remove the custom ad blocker rule(s) and the page will load as expected.