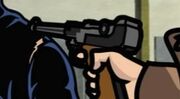 The
Luger P08 pistol
was a German semi-automatic weapon created in 1898. It was the pistol that the 9mm parabellum cartidge was originally designed for. It was a service weapon for both Germany and Switzerland during both World Wars. It was originally produced between 1900 and 1945, but later reproduced for collectors.
Appearance
Edit
Ad blocker interference detected!
Wikia is a free-to-use site that makes money from advertising. We have a modified experience for viewers using ad blockers

Wikia is not accessible if you've made further modifications. Remove the custom ad blocker rule(s) and the page will load as expected.