M-16
Talk

0
454pages on
this wiki
Lightweight and accurate, the 5.56mm M-16 family of rifles is the 2nd most common rifle type in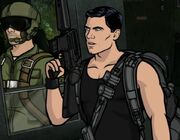 the world. The western counterpart to the AK-47, the M-16 was developed by in the US in 1963 and has since been adopted by the US and several other countries as their primary military assault rifle. There have been several versions and derivatives developed since then.
M-16A1 - The first version to become the primary assault rifle of the US Army, the M-16A1 is fully automatic and lightweight.
M-16A2 - Introduced in the 1980s to replace the M-16A1, the A2 replaces the A1's fully automatic capability with a three round burst fire mode and added sturdier parts.
Appearances
Edit
In El Contador, Archer wields an M-16A1 with a 20-round magazine.
Several episodes, two M-16A2s can be seen on the wall in the ISIS armory.