Maria Moreno
First appearance
"Coyote Lovely"
Information
Eyes
Brown
Hair
Grey
Languages
Spanish (native)
English (conversant)
Affiliations
Nationality
American
Occupation
coyote
Personal Life
Relationships
Mercedes Moreno (daughter)
Maria Moreno is the mother of Mercedes Moreno and actual coyote smuggling people across the US-Mexican border. Mercedes appeared as "Moreno" as a ruse to Sterling, whilst Maria did the actual smuggling.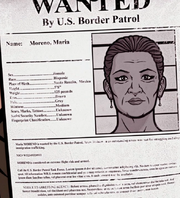 Ad blocker interference detected!
Wikia is a free-to-use site that makes money from advertising. We have a modified experience for viewers using ad blockers

Wikia is not accessible if you've made further modifications. Remove the custom ad blocker rule(s) and the page will load as expected.