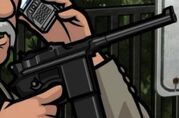 The Mauser M712 Schnellfeuer pistol was a German select-fire weapon manufactured between 1896 and 1937. It was used heavily during World War II.
Appearances
Edit
This weapon first appears in "Killing Utne" as the weapon Mannfred and Uta to murder Torvald Utne. It is seen again in a flashback in "The Double Deuce," Malory uses one to defend herself after giving birth to Sterling Archer. It is also seen in the hands of Le Chuffre in "Jeu Monégasque".
Ad blocker interference detected!
Wikia is a free-to-use site that makes money from advertising. We have a modified experience for viewers using ad blockers

Wikia is not accessible if you've made further modifications. Remove the custom ad blocker rule(s) and the page will load as expected.