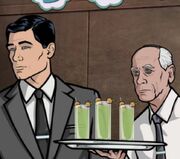 Melon Ball was the featured drink at Trinette's baby shower, held at Archer's apartment. Archer has misgivings about using the drink to replace 8 gills of blood taken by ODIN staff to determine the Wee Baby Seamus' paternity.
In Live and Let Dine, Archer asks Cyril if he wants a melon ball. 
Ingredients
Edit
2 oz Midori Melon Liqueur
1 oz Vodka
4 oz Orange Juice or Pineapple Juice
Shake well, serve in Highball or Collins glass
Ad blocker interference detected!
Wikia is a free-to-use site that makes money from advertising. We have a modified experience for viewers using ad blockers

Wikia is not accessible if you've made further modifications. Remove the custom ad blocker rule(s) and the page will load as expected.