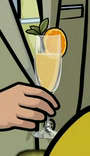 A Mimosa is a simple but fancy drink popular among ISIS employees. Sterling makes a deal with his co-workers: if Archer supplies mimosas,bagels, and lox, everyone has to watch Terms of En-Rampagement ("Placebo Effect").
Simply fill half a champagne flute with chilled champagne, top off with orange juice, and garnish the rim with sliced orange or strawberry.
Ad blocker interference detected!
Wikia is a free-to-use site that makes money from advertising. We have a modified experience for viewers using ad blockers

Wikia is not accessible if you've made further modifications. Remove the custom ad blocker rule(s) and the page will load as expected.