Ad blocker interference detected!
Wikia is a free-to-use site that makes money from advertising. We have a modified experience for viewers using ad blockers

Wikia is not accessible if you've made further modifications. Remove the custom ad blocker rule(s) and the page will load as expected.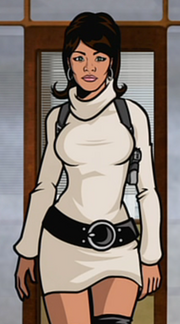 The Mini Sweater Dress is Lana's favorite outfit to wear for casual occasions and small or impromptu missions. They appear in almost every episode but not all as she does wear other articles of clothing (including a sweater shirt in a similar style, a regular scoop neck dress and a tactical mission outfit).
Lana has many mini sweater dresses in multiple colors. They all have long sleeves, a short, above the knee length and a cowl turtleneck collar, usually seen with tall, thigh high heeled black boots and a wide black belt with a circular buckle.
The term "mini sweater dress" is coined by Malory when she attempts to insult Lana in the episode "Stage Two".
Colors by Episode
Edit
The chart below lists all of the known colors of Lana's mini sweater dresses by season and episode.
In addition, an approximate HEX color has been supplied for each of the listed dresses.
| Color | HEX † | Season 1 | Season 2 | Season 3 | Season 4 |
| --- | --- | --- | --- | --- | --- |
| Off-White | E6DDD2 | 1, 2, 4, 8, 9 | 2, 3, 6, 9, 12 | 10 | 3, 4, 6 |
| Olive Green | 94A814 | 4, 7 | 8 | 5, 10 | |
| Pinkish Off-White | FFDEDE | | | | |
| Baby Blue | 8CCEE4 | | 10 | | 5 |
| Coral Red | A0522D | | 8 | 9 | |
| Green | 4A7508 | | | 2, 4 | |
| Chartreuse | AFA837 | 9 | | | |
| Orange | FF8800 | 3 | | | |
| Light Green | BBFFBB | | | 1 | |
| Coal Grey | 424333 | 5 | 4, 6, 13 | 2, 5, 6, 9, 11 | 3 |
| Mustard Yellow | CEB541 | 9 | 7 | 12 | |
| Scarlet Red | 9A2B36 | 10 | | | |
| Raspberry Red | C2364E | | 9 | 7, 11 | 3, 5 |
| Lemon Yellow | | | | 9 | |
| Pink | | | | | 3 |
| Blue | | | | | |
† HEX colors are approximate