Ad blocker interference detected!
Wikia is a free-to-use site that makes money from advertising. We have a modified experience for viewers using ad blockers

Wikia is not accessible if you've made further modifications. Remove the custom ad blocker rule(s) and the page will load as expected.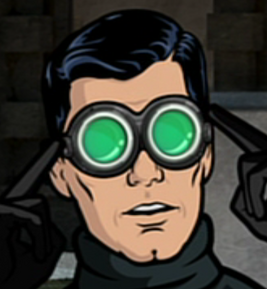 Night Vision Goggles
are a frequently used tool by spies who operate at night. This device allows agents to see at night without the use of a light source (ex. flashlight). The
ISIS
agents often bring them along on their night operations. Like many spy gadgets, they require calibration from technical support staff.
In the second season, the night vision goggles in the ISIS armory appear to have been upgraded. When Pam is wearing this new version, it allows her to blink or shut her eyes. This feature could have come in handy when Archer was temporarily blinded during a mission gone wrong in San Marino.
In The Limited, Archer put on the googles hoping that they would give him better sight in the dark, only to have an oncoming train's lights temporarily blind his retinas. Archer then turned off the night vision part of the goggles, and used them as regular goggles against the wind. 
They were seen again in Bloody Ferlin, when Ray was raiding the Armory to get weapons to help his brother out at his drug farm. 
It is assumed that they were all confiscated by the FBI in season 5, along with all of the weapons from the armory.
Appearances
Edit