Ad blocker interference detected!
Wikia is a free-to-use site that makes money from advertising. We have a modified experience for viewers using ad blockers

Wikia is not accessible if you've made further modifications. Remove the custom ad blocker rule(s) and the page will load as expected.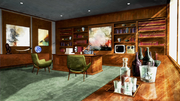 The
office of Malory Archer
is where the spymaster and chief operating officer of ISIS performs her duties. It is the largest office in
ISIS headquarters
and has a direct view to the
ISIS training and break room
, which can be hidden by a painting.
The back wall is equipped with a large computer monitor to display mission details and directives. The monitor also functions as a video conferencing unit. The desk has a very secure locking system in place, and is wired with C4 explosives to keep unwanted individuals from accessing it. There is a well-stocked supply of liquor here, and it is not uncommon for Malory and/or Sterling to be seen imbibing alcoholic beverages.
It is decorated with many vases and small statues. The vases are often used by Malory to express her frustration. She often tosses them across the room or at people when frustrated or angry "Sterling also threw one". This occurs so frequently that Malory has a "vase guy." Items from the barsets are also crushed frequently.
The office has been featured in almost every episode, and was the site of the infamous "whipped cream incident".