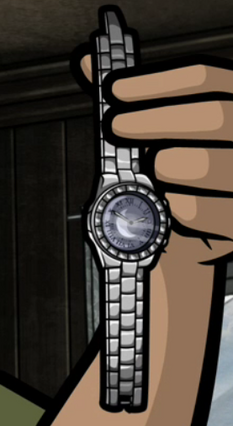 The Omicron Spymaster Watch is the type of watch that Archer wears on his wrist. It was given to him by his mother, Malory. The back is engraved with the words, "To Sterling, Love Mother." Archer almost lost this watch when the pirates took it off of him. The Pirate King took it as proof that Archer was rich and would be a good ransom. He wore it until Archer use the knock-out gas and killed him and took it back. This watch was probably inspired by James Bond's watch. The name is a parody of the Omega Speedmaster and Omega Seamaster watches, the latter of which has been James Bond's watch since GoldenEye (1995).
Knock-out gas
Garrote (an instrument of execution used for strangulation)
Laser
Ad blocker interference detected!
Wikia is a free-to-use site that makes money from advertising. We have a modified experience for viewers using ad blockers

Wikia is not accessible if you've made further modifications. Remove the custom ad blocker rule(s) and the page will load as expected.