The pirates attempted to kidnap and ransom Archer and Rip Riley to ISIS. They failed when their Pirate King was killed by Archer and his Omicron Spymaster Watch. They operate out of a pirate fortress on the Island of Pangu.
It is customary for the women of Pangu Island to welcome back the pirates with a feast.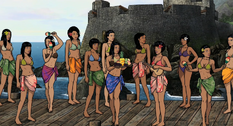 Ad blocker interference detected!
Wikia is a free-to-use site that makes money from advertising. We have a modified experience for viewers using ad blockers

Wikia is not accessible if you've made further modifications. Remove the custom ad blocker rule(s) and the page will load as expected.