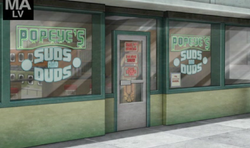 Popeye's Suds and Duds is located in New York on the ground floor of the ISIS headquarters building. This business serves as the primary entrance to ISIS the elevator to which is disguised as a dryer. Formerly known as Four-Five-Six Laundry, it was recently acquired by Popeye, a pimp who has done business with Sterling Archer in the past.
Malory sold the business to Popeye after she fell victim to a ponzi scheme and needed money in order to keep ISIS. Popeye's first business decision was to withhold Archer's suits until his overdue bill for escorts was paid in full, secondly he decided to switch from Perc (Perchloroethylene) to D5 (Decamethylcyclopentasiloxane) in an effort to be more environmentally friendly in "A Going Concern".  "Goin' green up in here."  But upon entering some numbers on a calculator and reviewing the printed results, Popeye appears noticeably perturbed at the cost of his decision.
Additional Services
Edit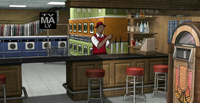 Popeye can be seen adding additional services to the wash and fold during the events of El Secuestro. He has apparently upgraded it to now include bar services, including a jukebox, a bar, bar stools, a liquor shelf and taps for beer.
Ad blocker interference detected!
Wikia is a free-to-use site that makes money from advertising. We have a modified experience for viewers using ad blockers

Wikia is not accessible if you've made further modifications. Remove the custom ad blocker rule(s) and the page will load as expected.