Ron Cadillac
Talk

0
479pages on
this wiki
Ron Cadillac
First appearance
Fugue and Riffs
Information
Eyes
Brown
Hair
Grey
Languages
English (native)
Affiliations
Nationality
American
Occupation
Cadillac dealer
Personal Life
Relationships
Malory Archer(wife)
Bub(mother-in-law)
Sterling Archer step-son
Ron Cadillac is Malory Archer's new husband introduced in the season 4 premiere Fugue and Riffs. He owns six Cadillac dealerships and has a strained relationship with his new stepson Sterling. The marriage causes Sterling to believe he is Bob from Bob's Burgers.
He is voiced by Ron Leibman, who is also the husband of Jessica Walter (who voices Malory Archer) in real life.
Ron's known origins go back to the later 30's and early 40's where he and his "crew" stole cars for chop shop owners. His crew consisted of his closest friends, Tony, Donnie, Joey, and "Fat Mike." After Ron's revelations on how to make more money he and his crew opened up their own chop shops which became very successful. Until The police found out and arrested all of Ron's crew but him, as he was procuring meatball subs. They were sentenced to 20 years in prison.
Afterward he changed his name to Ron Cadillac (from Ron Kazinsky) and used his ill-gotten gains to start his chain of Cadillac dealerships.  He has since tried to get money to the families of his former crew, although he had consistently been hijacked on his runs until Archer helped him in "Midnight Ron."
He was first introduced in,
Fugue and Riffs
.  In the episode,
Archer
suffers from drug infused amnesia. At the end of the episode, it reveals that shortly after
Malory
married Ron, Sterling ran off, stealing their limo. For the following months after the wedding, he assumed the role of Bob Belcher, (a crossover to Bob's Burgers, in which H. Jon Benjaimin, the voice actor of both character, appears).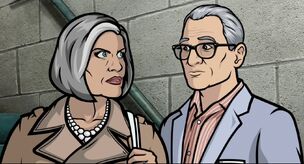 Personality
Edit
Ron comes off as a sweet guy, while this is his strength, it comes off as a weakness at most points.  All though his past is shakily sketched, he is soon to be caught up in his age.  But, this doesn't mean will not manage a few surprises with his, stepson.
"Fat Mike" is a callback to "Frisky Dingo" (another Adam Reed show) wherein it is the name of two Xtacles (one became "the new Fat Mike" after the first was killed.
He apparently has a habit of keeping jelly and saltines (and possibly a juice box) in his suit pockets in case he gets hungry later. Probably, based on the packaging, the jelly and saltines are from what is handed out for free at restaurants. The noise he made trying to open the saltines got him and Malory kicked out of the opera.
He is opening a new dealership, his 7th, in White Plains. ("Legs"). Although he says his is the biggest dealership chain in the entire tri-state area, all of the dealerships revealed thus far are in New York. He has one in Yonkers ("Legs")  one in Schenectady ("Midnight Ron"), and one in Catskill ("Midnight Ron").
Appearances
Edit
Gallery of Images
Edit
There are 5 images of Ron Cadillac on this Wiki, visit the Ron Cadillac gallery to view all the images and screenshots.