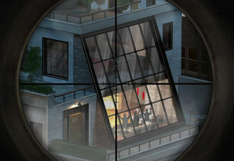 Rona Thorne's penthouse apartment is where the actress stayed when she was in New York. While Rona infiltrated ISIS, her diary was stolen from her purse by Pam. In an effort to return the diary without Rona's knowledge of the theft Pam, Ray and Cheryl used ISIS equipment to break in. The operation goes badly and the police arrive.
It has only made one appearance in "Movie Star."
Ad blocker interference detected!
Wikia is a free-to-use site that makes money from advertising. We have a modified experience for viewers using ad blockers

Wikia is not accessible if you've made further modifications. Remove the custom ad blocker rule(s) and the page will load as expected.