Ruth Anne Litzenberger
First appearance
Once Bitten
Information
Hair
Brown
Languages
English (native)
Affiliations
Occupation
unknown
Skills
stalking
Personal Life
Ruth Anne Litzenberger was a woman who stalked Sterling in Baltimore. She shot him in the stomach before pressumably jumping out of the window. Her existence and actions are revealed in a dream state of Sterling's retold by James Mason brought on by cobra venom, thus it cannot be discerned if it indeed happened or if she exists.
Appearances
Edit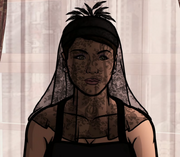 Ad blocker interference detected!
Wikia is a free-to-use site that makes money from advertising. We have a modified experience for viewers using ad blockers

Wikia is not accessible if you've made further modifications. Remove the custom ad blocker rule(s) and the page will load as expected.