Season 4
Archer



Facebook Cover Art

Country of origin
United States
No. of episodes
13
Broadcast
Original channel run
FX
Original run
January 17, 2013 – April 11, 2013
Home video release
DVD
January 7, 2014
Season chronology
The fourth season of Archer will consist of 13 episodes.[1] Season 4 began January 17, 2013.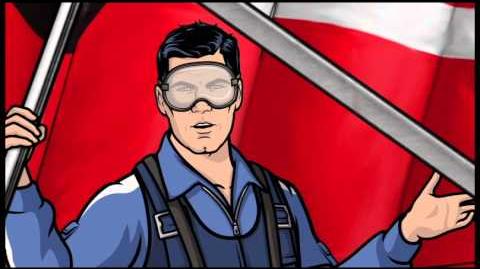 List of Episodes
Edit
Screenshot
Title
Original airdate
Production code
Season Episode #
Total Episodes #
"Fugue and Riffs"
January 17, 2013
XAR04001
1
37
Archer has amnesia and decides the only cure is a spa weekend.
"The Wind Cries Mary"
January 24, 2013
XAR04003
2
38
Archer and his former best friend are holed up in the Vermont wilderness, fighting hard to come out on top.
"Legs"
January 31, 2013
XAR04004
3
39
Archer's fear of cyborgs hits home when Krieger offers to make robotic legs for Gillette.
"Midnight Ron"
February 7, 2013
XAR04005
4
40
The beginning of beautiful hatred between Archer and his new stepfather plays out as the two are chased by gangsters.
"Viscous Coupling"
February 14, 2013
XAR04006
5
41
Archer's former fiance wants him to save her cyborg boyfriend who is trapped in outer space. Archer wants... other things.
"Once Bitten"
February 21, 2013
XAR04007
6
42
Archer gets bitten in a special place by a snake.
"Live and Let Dine"
February 28, 2013
XAR04008
7
43
Archer, Lana, and Cyril go undercover in celebrity chef Lance Casteau's hellish kitchen.
"Coyote Lovely"
March 7, 2013
XAR04002
8
44
Archer goes to the Mexican border to find a notorious coyote.
"The Honeymooners"
March 14, 2013
XAR04009
9
45
Archer and Lana pose as newlyweds to stop a sale of enriched uranium.
"Un Chien Tangerine"
March 21, 2013
XAR04010
10
46
Archer and Lana extract an agent from Morocco only to find out his bark is worse than his bite.
"The Papal Chase"
March 28, 2013
XAR04011
11
47
Archer must rescue the Pope from an assassination plot using Woodhouse as a decoy. Operation Bad Habit is a go.
"Sea Tunt: Part I"
April 4, 2013
XAR04012
12
48
Cheryl's brother Cecil Tunt and his girlfriend Tiffy drive her crazier than usual as they travel into the Bermuda Triangle. Where mysteries abound!.
"Sea Tunt: Part II"
April 11, 2013
XAR04013
13
49
Archer and the ISIS crew go to an underwater SEA LABoratory to stop the deranged Captain Murphy.
External Links
Edit
References
Edit