Season 8
Archer
Country of origin
United States
No. of episodes
8
Broadcast
Original channel run
FXX
Original run
April 5, 2017 – May 24, 2017
Home video release
DVD
TBA
Season chronology
Archer Dreamland, the eighth season of Archer was ordered by FX on June 21, 2016 and set to debut on April 5, 2017 on FX's sister channel FXX.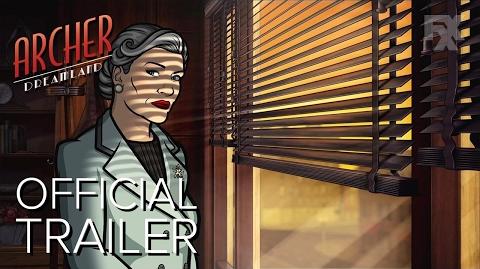 Season Synopsis
Edit
Season 8 of Archer revolves around the hardboiled private eye Sterling Archer and his quest to find his partner's killer in 1947 Los Angeles.The case proves to be more difficult than expected after Archer quickly gets mixed up in a deadly game of tug of war between Los Angeles' most powerful crime bosses. Every clue leads Archer further away from his goal and deeper into a mystery involving kidnapping, prostitution and drug addiction.
Show producers Adam Reed and Matt Thompson say Archer will meet alter-ego versions of the Archer characters you know and love over the course of the Dreamland season.
List of Episodes
Edit
Screenshot
Title
Original
Air Date
Production Code
Season Ep. #
Overall Ep. #
"Archer Dreamland: No Good Deed"
April 05, 2017
XAR08001
1
86
Archer tries to find the murderer of his partner Woodhouse, but accidentally ends up in bed with Malory, a notorious crime boss in L.A.
"Archer Dreamland: Berenice"
April 12, 2017
XAR080021
2
87
A mysterious woman hires Archer to fake her own death, but Sterling is unable to rise to the occasion.
"Archer Dreamland: Jane Doe"
April 19, 2017
XAR08003
3
88
Archer tries to escape from jail with the help of a crazed heiress and a dysfunctional jazz quartet.
"Archer Dreamland: Ladyfingers"
April 26, 2017
XAR08004
4
89
While investigating a kidnapping, Archer reveals too much about Figgis, and Krieger reveals too much about his past.
"Archer Dreamland: Sleepers Wake"
May 03, 2017
XAR08005
5
90
Dutch(Barry) becomes a new man while Archer's ransom exchange goes up in smoke.
"Archer Dreamland: Waxing Gibbous"
May 10, 2017
XAR08006
6
91
All roads lead to Len Trexler as Archer and the gang try to avoid unfriendly ghosts




"Archer Dreamland: Gramercy, Halberd!"
May 17, 2017
XAR08007
7
92
TBA
"Archer Dreamland: Auflösung"
May 24, 2017
XAR08008
8
93
TBA
Season 8 is the first season to be aired on FXX.
Season 8 is the first season to have its episode number limited to 8.
Archer was renewed for Season 8 through 10.[1]
Season 8 is the second season to have a season sub-title: "Dreamland".
The opening title sequence has once again undergone many image changes to reflect Season 8's overall 1940's film noir, art deco theme. However a few Los Angeles landmarks still remain from Season 7.
Season 8 marks the fist time the Opening Theme Music has been altered. It has been given more of a Jazz sound to match the theme of this season.
External Links
Edit
References
Edit
Ad blocker interference detected!
Wikia is a free-to-use site that makes money from advertising. We have a modified experience for viewers using ad blockers

Wikia is not accessible if you've made further modifications. Remove the custom ad blocker rule(s) and the page will load as expected.