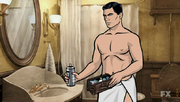 As a suave and debonair gentleman Sterling Archer prefers a straight razor shave to that of a disposable or safety razor. He owns a silver-tip badger brush, one of the finest quality shaving brushes made and uses Bay Rum aftershave. In Archer's book How To Archer he tells us the blade is Solingen steel, hollow-ground, French-tipped, and stropped on only the finest leather. The handle is elk antler, and the shave cream is one of Woodhouse's own creation.
In the episode "Swiss Miss" he uses his kit to cover up his penis so Anka wouldn't see it, which end up cutting his penis to where he had to get stitches.
After using it to cover up his nudity, the razor cut his penis. After that he considered switching to electric, but he didn't.(Swiss Miss)
Ad blocker interference detected!
Wikia is a free-to-use site that makes money from advertising. We have a modified experience for viewers using ad blockers

Wikia is not accessible if you've made further modifications. Remove the custom ad blocker rule(s) and the page will load as expected.