Skorpio
Archer
Episode no.
Season 1
Episode 6
Written by
Adam Reed
Production code
AR01006
Original air date
February 11, 2010
Episode guide
"Skorpio" is the sixth episode of the first season of Archer.
Plot summary
Edit
Archer must rescue Lana from the clutches of Skorpio, the infamous arms dealer. Meanwhile, Cyril fears not only for his girlfriend's life, but her succumbing to the seductive nature of Archer's heroics. All the while Malory is on a date with Jakov while keeping an eye on Archer, Lana, and Skorpio aboard the Argo.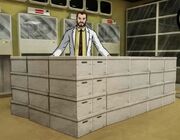 Malory has given Lana the mission of assassinating the arms dealer
Spirodon Skorpio
, while at the same time she has a secret conference with
Nikolai Jakov
. In the meantime at
ISIS
, the staff is charged with moving data systems onto the new servers, but instead they goof around and get stoned on
MSG
.
Main Cast
Edit
Guest Stars
Edit
Gallery of Images
Edit
There are 20 screenshots and images from "Skorpio" on this Wiki, visit the category page for a complete gallery.