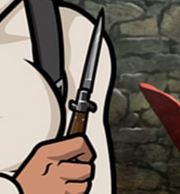 A switchblade
is one of
Lana's
preferred weapons of intimidation. She uses it twice to interrogate
Jane
to test the lies that
Cyril
tells her during "
Training Day
."
In the episode "Sea Tunt" Archer has one and hes trying to use it to give Pam an emergency tracheotomy, an when Malory asks him when he got a switch blade he explains that "it's a long story' then say "not really long as much as not interesting.
Ad blocker interference detected!
Wikia is a free-to-use site that makes money from advertising. We have a modified experience for viewers using ad blockers

Wikia is not accessible if you've made further modifications. Remove the custom ad blocker rule(s) and the page will load as expected.