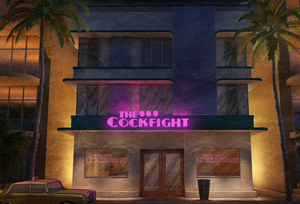 The Cockfight is the name of a gay bar located in South Beach, Florida. Charles and Rudy send Archer there to continue his attempts to seduce Ramon Limon. The name is a double entendre because they have actual cockfights there. A sign in the bar clearly states, "No Hens Allowed."
Sterling once again fails to seduce Limon, but he does end up helping a sad Dominican guy to bury his dead rooster in the Everglades.
It closely resembles "the birdcage" lounge from the movie "The birdcage".