Archer Title Sequence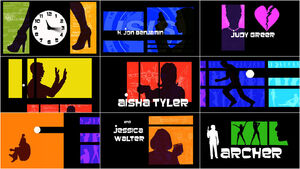 Additional Information
Title Sequence created by Neal Holman
A title sequence is that part of a television program which typically gives the series title, theme music, and serial or episode name. It may also provide the names of the principal actors involved, as well as that of the writer.
Archer's title sequence was created by Production Designer / Art Director Neal Holman.
Title Sequence History
Edit
Version #
Video
Season
Introduction Episode
Premier Date
1
Season 1
Mole Hunt
Sept 17, 2009

The original title sequence.





2
Season 2
Swiss Miss
Jan 27, 2011

Added Amber Nash to title sequence.





3
Season 4
Fugue and Riffs
Jan 17, 2013
"FX Presents" was added to the center of the clock and jet at the beginning.




4
Season 5
White Elephant
Jan 13, 2014
Added Lucky Yates and changed several of the images between and behind the credits.




5
Season 5
A Kiss While Dying
Jan 20, 2014
Changed to reflect the seasons "Archer Vice" theme. At the end, Archer strikes a different pose while holding a submachine gun.
6
Season 6
The Holdout
Jan 8, 2015
Reverted back to a standard title sequence with some alterations to the pics behind the credits.




7
Season 7
The Figgis Agency
March 31, 2016
Changed to reflect the seasons private investigation story arc and the new Los Angles, California location. At the end, Archer strikes a pose similar to the one in Season 5 sequence, but is holding his Walther without the silencer.
8
Season 8
No Good Deed
April 05, 2017
Changed to reflect the season's Dreamland Theme. Character silhouettes now illustrate their "dream" persona's and are backed by art deco patterns The clock hand now morph into a post-WWII bomber and Archer's end pose now shows him holding a M1911 pistol and wearing a fedora. The theme music was changed to a jazz version.
9
Season 9
Strange Pilot
April 25, 2018
Changed reflect the season's Danger Island theme. Character silhouettes, backing images, clock hands as well as Archer's end pose now reflect the current theme. The theme music was also changed to a island version.
The Season 6  title sequence removed the word "ISIS" from the pic behind H. Jon Benjamin's credit due to its real world connotations.  It continues to be absent in all subsequent sequences.
The Season 7 title sequence features silhouettes of Palm Trees and 4 well known Los Angeles buildings:
External Links
Edit