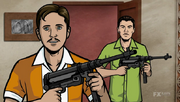 What Season 1 Archer villain or villain team, who is still alive, would you most like to see make a comeback?
Conway Stern (Diversity Hire)
Mannfred and Ute (Killing Utne)
Charles and Rudy (The Honeypot)
Captain Lammers (Skytanic)
Ok to qualify these selections: I said villain not arch villain so ODIN and KGB personnel are out, also I said still alive so unfortunately Crenshaw and Skorpio are out too.
Ad blocker interference detected!
Wikia is a free-to-use site that makes money from advertising. We have a modified experience for viewers using ad blockers

Wikia is not accessible if you've made further modifications. Remove the custom ad blocker rule(s) and the page will load as expected.